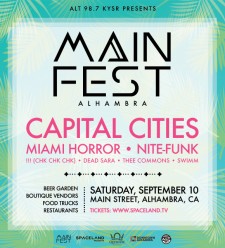 Alhambra, Ca, July 13, 2016 (Newswire.com) - ​On Saturday, September 10, 2016, a new festival will rock the 6-2-6!  The City of Alhambra, known as the gateway to the San Gabriel Valley, will host Main Fest Music Festival, a one day, all ages, ticketed event featuring performances by Capital Cities, Miami Horror, !!! (Chk Chk Chk), new editions include local favorites Nite-Funk, Dead Sara, Thee Commons and Swimm.  
The festival will take place over three blocks of the City's Main Street, from Garfield Avenue to 2nd Street. In addition to the concert, attendees will enjoy beer garden, food trucks, boutique vendors, and a variety of Downtown Alhambra's best restaurants.
The festival is presented by Alt 98.7 FM and Downtown Alhambra Business Association, and produced by QueenVee Entertainment and Spaceland Presents. For more information, including sponsorship opportunities and vendor inquires, please visit www.mainfestalhambra.com or www.downtownalhambra.com.
Tickets for this all-ages event are on sale via Ticketfly for $25.00 to $60.00 each plus service fees.
BUY TICKETS: September 10th: Capital Cities, Miami Horror, and !!! at MainFest Alhambra.
For the most up-to-date information. Stay connected on Twitter at https://twitter.com/MainFestAlh and Facebook www.facebook.com/mainfestalhambra/?fref=ts.
ABOUT
QueenVee Entertainment - QueenVee Entertainment produces innovative and interactive events and parties. QVE's top priority is creating the ultimate boisterous night out and QVE encourages people to PARTY OUT LOUD.  
QueenVee Entertainment was launched in 2011 in Los Angeles and was founded by Joanna Vargas. The Vee in QueenVee is for Joanna's last name initial - Vee for Vargas. QVE produces themed party cruises, fashions shows, live community events and music festivals. QVE has grown significantly and has entertained over 10,000 audience members in the Los Angeles area.
Spaceland Presents
Spaceland Presents is one of the premier independent club promotion and event companies whose résumé includes early shows by the White Stripes and Arctic Monkeys. Spaceland Presents has long been known as an innovative concert promoter blending unique cultural institutions with live musical performances for audiences to enjoy. Since 2007, Spaceland has been booking "First Fridays" at The Natural History Museum and "Saturdays off the 405" at The Getty. Spaceland also produces Santa Monica's Twilight Concert Series. Spaceland Presents is the sister company to Los Angeles music venues The Echo and Echoplex and most recently The Regent Theater in Downtown Los Angeles.
Event Contact:   Leslieann@LA-and-Co.com                
Media Contact: charra@spaceland.tv
Source: Spaceland Presents
Share: